There is something about wearing sequins in all its glittering glory that makes me feel girlie and pretty. With Office Holiday parties commencing this weekend, I thought I would share some fun festive looks, for those of you who will be forced to attend your annual office Christmas party. On a side note (one should NEVER have to witness their Boss at the office Holiday party, getting a bit too tipsy whilst his wife feels him up.) This is an awful scene which generally requires hours of therapy or at least a day off from work.
It can be a bit tricky to look fancy and chic without your look screaming "I haven't had a night out on the town in two years."  Sequins and metallic dresses are my go to garments for any Holiday party. Treat sequins and metallics as you would animal prints don't over do it. One sequin piece is enough. Here's a few photos for inspiration to spice up your Holiday look!
Sequins wide leg pants are in demand this season. I know for some of you this will not be your thing but, it's a great look for those that want to opt out of wearing a sequin dress or skirt.
Sliver or gold sequins jackets are great for holiday parties and New Year celebrations. This jacket is timeless, classic, and creates a effortless holiday look.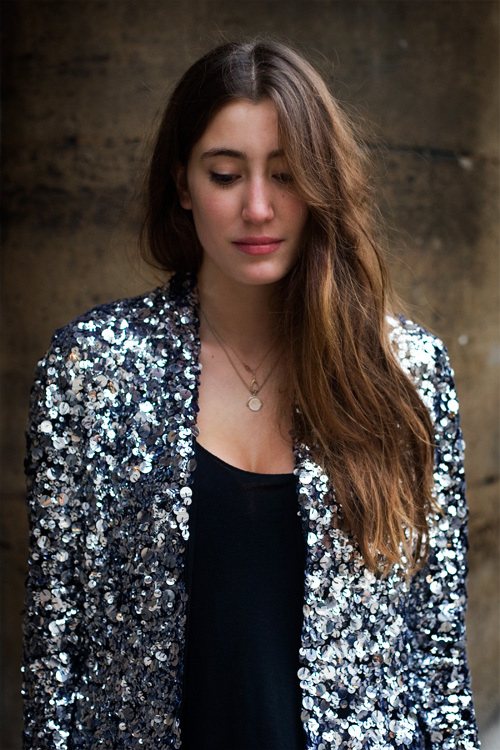 Sequin tunic paired with black leggings creates an edgier look for the Holidays! 
Pairing a large chunky cardigan with your sequin dress gives your look versatility and longevity. This look is modern and fresh!

A gold, brocade, party skirt paired with a black leather belt and simple black jumper/sweater is a sweet and innocent look. Wear black opaque tights if you're concerned about the length of the skirt. Entire outfit from Zara.
Sequins leggings are HOT HOT HOT!!! If you're brave enough to rock these (which I hope you are) try and stick to dark colors they create a more slimming look. The gold pair are pretty tempting for your inner Minx.
My absolute favorite the "sequin dress" …..for the ladies that prefer their sequins straight up with nothing added.